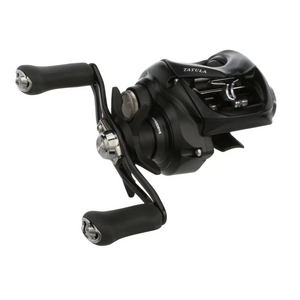 HYPER DRIVE DESIGN
New design concepts are the pinnacle of durability and innovation. The Hyper Drive Design consists of four new elements: Hyper Armed Housing, Hyper Drive Digigear, Hyper Double Support, Hyper Tough Clutch.
SWEPT HANDLE
Daiwa's exclusive swept handle moves the paddles closer to the rod's centerline. The result is less wobble of the rod and reel in your hand as you crank. That means less wasted energy - a more powerful retrieve.
TWS
Daiwa's revolutionary T-Wing System addresses the issue of traditional line guide/level wind systems constricting line flow by delivering a T-shaped line guide that is larger, wider and less restrictive. TWS allows line to exit freely from the spool with minimal line angle and minimal friction, thereby reducing line noise and backlash, and delivering more accurate and longer casts.
UTD DRAG
A system that combines ultra smooth low inertia with ultimate fish stopping power. UTD combines advanced carbon washers, alloy and stainless steel drag plates with specially designed grease for ultra-smooth performance.
| | | | | | | | |
| --- | --- | --- | --- | --- | --- | --- | --- |
| TATU100 | 7BB + 1 | 6.3 : 1 | 26.3 | 14/120, 16/100 | 30/130, 40/100 | 11 | $179.99 |
| TATU100H | 7BB + 1 | 7.1 : 1 | 29.8 | 14/120, 16/100 | 30/130, 40/100 | 11 | $179.99 |
| TATU100XH | 7BB + 1 | 8.1 : 1 | 33.9 | 14/120, 16/100 | 30/130, 40/100 | 11 | $179.99 |
| TATU100L | 7BB + 1 | 6.3 : 1 | 26.3 | 14/120, 16/100 | 30/130, 40/100 | 11 | $179.99 |
| TATU100HL | 7BB + 1 | 7.1 : 1 | 29.8 | 14/120, 16/100 | 30/130, 40/100 | 11 | $179.99 |