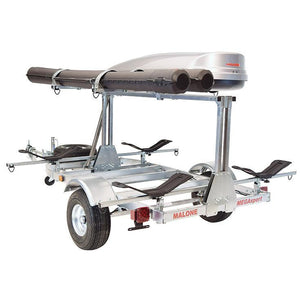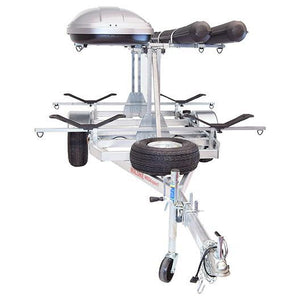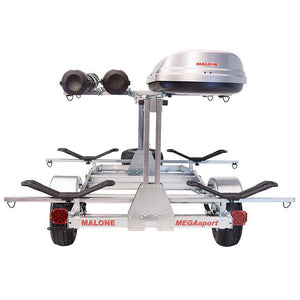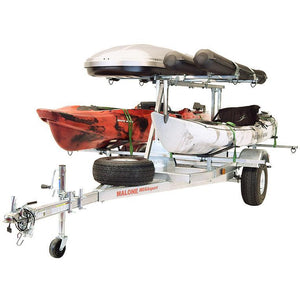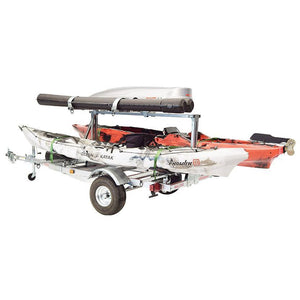 Product image 1
Product image 2

Product image 3

Product image 4
Product image 5

Product image 6

SKU: MPG550-LBM
Oversized delivery charge. $265 Per MegaSport Trailer.
The MPG550-LBM is a MegaSport™ LowBed™ Trailer fully outfitted with a 2nd Tier Kit, MPG910 Profile™ Roof Box, 2 sets of Rod Tubes, two sets of MPG207 MegaWing™ Kayak Carriers and a Spare Tire with Locking Attachment. This set-up represents one of our "Pro Level" offerings for transport of multiple large fishing kayaks with traditional center beam hull configurations.

---
With the 86" load bars positioned 25" from the ground, loading and unloading heavy fishing kayaks is a safe and simple process. To avoid portage, these galvanized marine grade trailers can be backed down a boat ramp in order to launch the kayaks directly into the water. Features include submersible LED lighting, 10" pontoon all-terrain tires, 2"coupler and a wiring harness with two accessory outputs.

---
The 2nd Tier has a 150 lb. load rating and provides transport for the Cargo Box and Rod Tubes. The 58" upper load bars provide an "easy to reach" height of 56" which allows access without climbing onto the trailer frame.

---
The trailer has a load rating of 1000 lbs. and is DOT and Transport Canada certified. Fully illustrated instructions allow assembly in approximately four to five hours with standard tools. Includes a Five Year Limited Warranty, and is, Made in USA.

---
Optional equipment that can be purchased includes:
MPG479 Trailer Harness Adapter
MPG488 Trailer Safety Mast
MPG542 Flood Light (Magnetic Mount Version)
MPG543 Electronic Charging Station
MPG544 Double Hitch Kit
MPG561 Large Kayak Bunk Kit
---
Features:
Pre-assembled hubs for a clean and simple installation
High speed wheels with marine grade sealed bearings
Standard extended tongue can transport a boat up to 20' in length
86" steel, 1 ¼'' square lower load bars and 58" second tier load bars fit nearly all rack accessories
11 gauge pre-galvanized steel construction for years of service
LED "Plug & Play" lights (DOT & Transport Canada approved)
1000 lb pivoting jack stand with wheel
---
Specifications:
Load Capacity: 1000 lb / 20' canoe or kayak
Suspension: Triple leaf spring
Dimensions: 174" (length) x 86" (width)
Weight: 425 lb
Frame: Marine grade galvanized steel
Hitch: 2" receiver
Height of Lower Cross Bars from Ground: 25"
Height of Upper Cross Bars from Ground: 56"