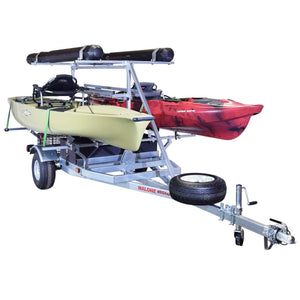 Product image 1

Product image 2

SKU:  MPG550-AH
Oversized delivery charge. $265 Per MegaSport Trailer.
Note: Product ships via freight on a pallet.
The MPG550-AH MegaSport™ trailer package is bundled with two sets of 84" Bunks (for two boats), 15' straps, spare tire kit, sliding storage drawer, 2nd tier load bars, wet gear basket, two sets of rod storage tubes and milk crate cage..

---
Features:
Padded bunks and mounting hardware for two boats
Full sized spare tire with locking attachment for off-road confidence & security
Wire basket to hold items not effected by moisture or outside conditions
Storage drawer that can be pulled out from under kayaks for easy gear access
2nd tier load bar system to increase capacity for an extra kayak or cargo box
Telescoping fishing rod storage tubes safely holds up to six oversized rods
Milk crate cage holds up to five standard crates with 100 lb total capacity
---
Specifications:
MPG535 - See individual item specifications
MPG561 - See individual item specifications
MPG540 - See individual item specifications
MPG547 - See individual item specifications
MPG537 - See individual item specifications
MPG545 - See individual item specifications
MPG541 - See individual item specifications
MPG546 - See individual item specifications
MPG307-15 - See individual item specifications