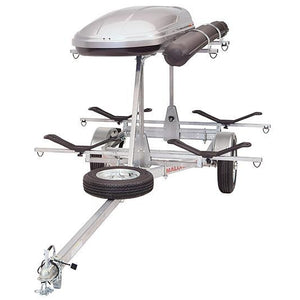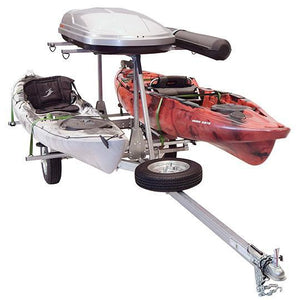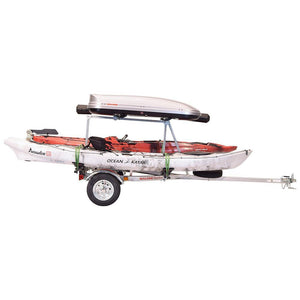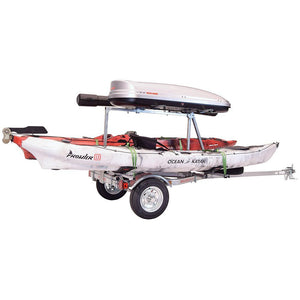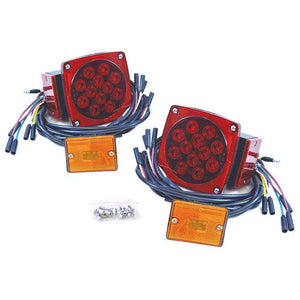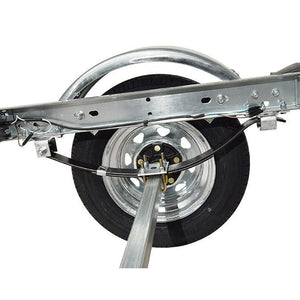 Product image 1

Product image 2

Product image 3

Product image 4
Product image 5

Product image 6

Product image 7

SKU:  MPG464-LBTM
Oversized delivery charge. $265 Per MicroSport Trailer with Cargo Box.
The MicroSport™ LowBed™, equipped with the MPG464-LBTM package is one of our most "option rich" trailers. Each unit is fitted with a 2nd Tier Kit, which is designed to hold the Malone Cargo16™ Roof Box and MPG541 Fishing Rod Storage Tube that are included with this kit.

The 78" long load bars are 22" from the ground and easily provide room for the MPG207 MegaWing™ Kayak Carriers. Loading and unloading large recreational or fishing kayaks has never been easier. These galvanized marine grade trailers can be backed down a boat ramp so the boats can safely be launched directly into the water.

The 2nd Tier has a 100 lb. load rating with 50" long upper load bars that provide a comfortable height (58") to access the cargo box and Rod Storage Tube. Other features include submersible LED lighting, Spare Tire with Locking Attachment and a Class II, 2" hitch receiver.

This 800 lb. load rated trailer is DOT and Transport Canada approved and assembles in approximately three to four hours with standard tools. Includes a Five Year Limited Warranty and is proudly, Made in the USA.
---
Features:
Pre-assembled hubs for a clean and simple installation
12" galvanized wheels with marine grade sealed bearings
Reinforced steel tongue can transport boats up to 20' in length
78'' steel, 1-1/4'' square load bars featuring d-ring tie-downs
50" steel, 1-1/4'' square upper load bars with 2nd Tier Kit
11 gauge pre-galvanized steel construction for years of service
Five Year Limited Warranty - Made in the USA
---
Specifications:
Load Capacity: 800 lb / 20' canoe or kayak
Dimensions: 13' 3" (length)
Width (Without crossbars): 55"
Frame Width Assembled (Width within Fenders): 40"
Weight (Without accessories): 197 lb
Frame: Marine grade galvanized steel
Hitch: 2" Class II receiver
Required Ball Size for Vehicle Attachment: 2"
Mounting Height for Ball from Ground: 18"
Recommended Tire Pressure: 35 to 40 PSI
Tongue Weight (Unloaded): 25 lb
Lower Cross Bar Spread (Adjustable): 44" - 63"
Height of Upper Cross Bars from Ground: 58"
Height of Lower Cross Bars from Ground: 22"