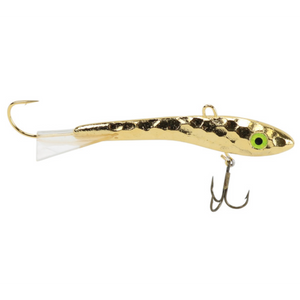 The Moonshine Lures Hammered Shiver Minnow is a gold-plated pounded version of its tournament-proven vertical jigging lure.  Like its popular jigging rap predecessors, the Hammered Shiver Minnow circles the water column as it hovers and features a sharp belly hook and a single tail hook for extra power. Designed to catch various fish species, the high-quality patent-pending hammered pattern design looks like another Moonshine winner! With limited size availability at this time, dedicated followers will likely snap up this model quickly! Don't miss the action that a Moonshine Lures Hammered Shiver Mnnow can bring for any season!
Non-glow lure developed for clear water conditions
Great fish-catching action for walleye, panfish, bass, trout, and striper
Use for bottom-dwelling and suspended fish
Effective when tipped with bait or on its own for ice fishing and any season
Qty. per Pack: 1
#3 is 1oz and 3 1/8"