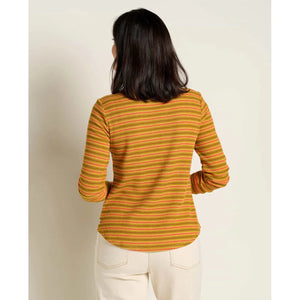 Product image 1
Product image 2

For lovers of campfires and connoisseurs of coziness, this comfy thermal waffle knit is a cool weather staple. Cute enough to wear to the office, but so soft you'll want to sleep in it.
Fit: Basic tee fit, crew neck, 25.5" length
Feel: Heritage-inspired blend of organic cotton and recycled polyester with a soft interior and waffle exterior
Features: Waffle texture on outside with smooth interior for everyday comfort, rib collar and cuffs
Fabric Name: Foothill Waffle
55% Organic Cotton, 45% Recycled Polyester
Know your strength and wear it too. This breathable yet durable waffle knit is made from organic cotton and recycled polyester, for when ya gotta get movin'. Or, when you just want to cozy up.
Care Instructions: Machine wash on cold with similar colors, on a gentle cycle. Tumble dry low on low heat, cool iron as needed. Do not bleach.