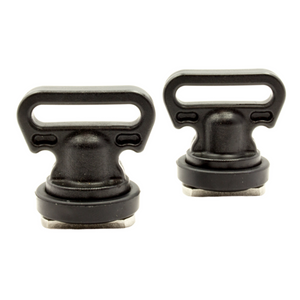 The YakAttack Track Mount Vertical Tie Downs come with a Mighty Bolt base. 
Compatible with YakAttack MightyMount's, GearTrac, and most other kayak track systems from Scotty Fishing Products, RAM Mounts, and YakGear. For FeelFree Kayaks, 3 Water Kayaks, and Jonny Boats you will need an adapter to be compatible. We offer the needed adapter in a single pack (AAP-1012) and a six pack (AAP-1012-6). 
Perfect as an anchoring point to secure a cooler or any other accessory to the track. Designed to work with 1'' and 1.5'' flat webbing and can also be used with bungee. Made in the USA from premium materials for a lifetime of use in even the harshest environments. Sold in a 2 pack.